Getting to Know…Rosa Chang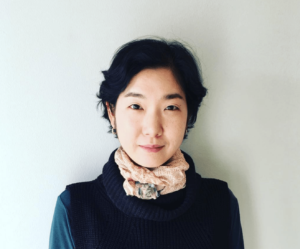 Rosa Chang was born and raised in Seoul, South Korea. She moved to the U.S. when she was 20 years old. Her father had been living in the U.S. since her parents separated, but she visited her father. She currently resides in NYC, creating all different forms of art. Check out her short animated film called "Cactus Life"!
Interview with Rosa Chang in conversation with Sibylla Benatova, June 2017.
S: Talk about your journey as an artist from Korea to the U.S.
R: I still don't have a destination yet, I'm still traveling. Since I was a child I was very much into escaping from the place where I am. Because I didn't grow up with my dad, he has been this mysterious creature to me. I've always been curious about him and America, the place where he lives. The first time I met him was when I was five. I've always imagined an invisible father with me. That's how I ended up in the States. In my first year at the School of Visual Arts (SVA) I made a short story about the moment when I met my father for the first time. It's called "A Sunny Day." I still remember that day.
S: Is anybody in your family an artist?
R: That's another reason I wanted to see my father. There are no artists from my mom's side of the family. This is something that I always found weird. Then my mom told me that my dad always wanted to be an artist, but because of the circumstances–he is the eldest son in a big family–he ended up having to go to a traditional school instead of an art school. That was hard for him and made him move to the States because he was unhappy not being an artist. I'm just like him.
S: Was your mother supportive when you became an artist?
R: She was very supportive. She was also very honest. She told me I am very much like my dad, that my talent must come from his side. My mom isn't interested in creating art. I knew that I was going to see my father someday. I wanted to visit him as that was always in my head. I finally visited him when I was in high school. I came for 4 months but I went back to Korea because… let's just say that my father and I are really stubborn. We didn't talk for 3 years.
S: Did you find visual differences between Korea and the U.S. when you first arrived?
R: It was totally different. The first place I landed in the States to see my dad was in a rough neighborhood in Baltimore City, which I had only seen in gangster movies. For me, the image of the States was green lawns and everyone jogging with a puppy, like a California kind of thing. When I landed I saw a bunch of row houses with broken windows – even my father was scared for me. He is an Americanized Korean man, wearing a baseball hat to look like a delivery guy, which is not typically Korean. In Korea, the father must have a suit, and men are more traditional. The whole world was upside down. Back then I was not familiar with seeing many Western people. At that time, my father had financial issues, which is why he did not want to invite me at first. He was living alone in a row house building – grey, concrete. The colors of the moment were grey, black and dark. It was also winter at the time.
S: When did you know you wanted to be an artist?
R: I was drawing since I was very little. Playing with crayons and paper all day long was all I did. I am an only child and my mom was a very hard working single mom. I was only spending time with my grandmother. I did not have any friends. I was playing with crayons 8 hours a day and helping my grandmother with the gardening and taking care of the flowers. My important mission was to water the plants every morning. That's why I chose my website's name to be "Rosaful Garden". I feel like making art is like gardening and there are a lot of similarities between farmers and artists. Being an artist is not a fast process. It is not instant. Like farmers harvesting fruits and vegetables, it takes time and effort. Even if you are working hard, you still have to focus and make sure everything is okay until you harvest, until you finish your project. It is sometimes physically hard and you need financial support, but the most important thing is to keep doing it every day. That's how I got into sustainability. Gardening and farming for me is about sustainability – using the soil and keep producing the same things over and over again, but still all different. None of the apples are the same, they are all of a different color.
S: What do you think you work the hardest for?
R: I really work hard for the details. There are so many artists who make beautiful paintings and sculptures, but there are not many people who focus on the little details. Maybe it's very Japanese to say. Making everything neat for the final process and not just clean, but adding little details and illustrations. I try to add a lot of little elements to the image to give people a reason to smile. I love using mixed media and choosing different materials. That's how I distinguish my work from others. I also like my work to have a twist. For example, the title of the Cactus Project is "I am not your comfort zone". It looks super cute – I chose objects that give feelings of comfort to people, like a couch. I consider them more as a victim that have no power, and I wanted to add the spikes to show that they are not only cute but have emotions.
S: Is it good for an artist to have a comfort zone?
R: I have a personality where I try to provide comfort to people. I really try to be sweet and nice – that's generally my character. But then one day, I noticed that maybe I am too much. Maybe people try to use me. That's how I knew I had to add the prickles on all of the objects that make people happy.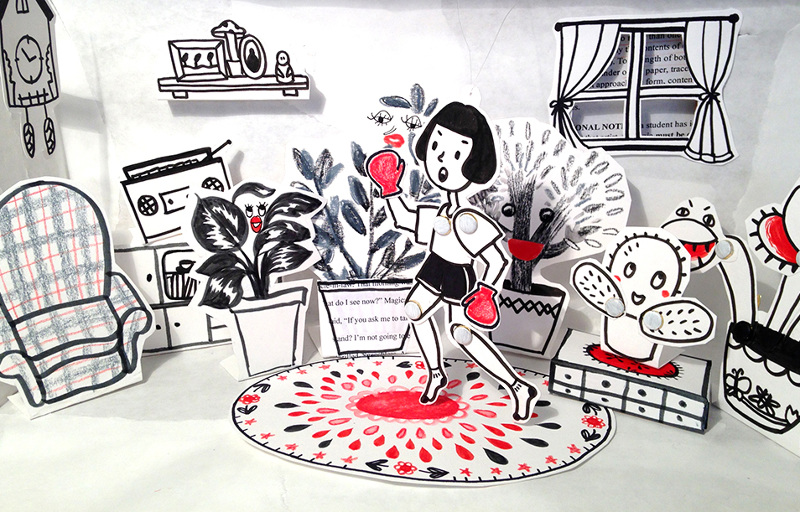 I made a short story about the prickles, that's a little zine – A story about a cactus dating a human and he decides to shave off his prickles to make his girlfriend happy. This short video was a school project in the first year of my program. It took time to add music, but I made it with an iPhone using a stand motion app. I finished it in two weeks. At that time, I was working at Starbucks, so I needed to figure out a way to finish my work. Instead of doing the fancy camera thing, I played around with the iPhone. Somehow it worked well. I drew the character with a marker then added color. I like to play with botanical characters – that's something that makes me feel comfortable, because I grew up with a lot of cactuses and flowers from my grandmother's little balcony garden in her apartment. This was my playground. I enjoy observing in general – one of my hobbies was looking at flowers and copying them, almost every day. Like a scientist, I noticed whenever a flower was growing, or blooming. I was a plant geek. I was into planting seeds and waiting for them to grow. My grandmother constantly changed plants and pots, and replanted. One day, she replanted the big cactus into separate smaller pieces and then gave it to my aunt. She divided it into three or four pieces and that blew my mind. I thought, "We can share it?!" Since then I've been adding cactus to everything!
S: Do you think you got back to your grandmother's garden because it was your childhood?
R: Yes, I consider my grandmother as my mom, but then because of circumstances I was not able to visit Korea for a while. In the last few years after college, I was having a really hard time because I was homesick. I had just moved to New York for a job, which I really didn't like. The New York atmosphere is tough, lonely, and working is hard. I was living a happy life, but emotionally it was hard and I ended up quitting the job. I love fashion and it was the first time I worked for a fashion company, but I don't like the industry because it is the opposite of what I value – there is no sustainability. I felt like I was producing garbage and I couldn't do that. I started re-processing my thoughts on what I wanted to do.
S: What about college?
R: I went to college when I was 24. Because of my language barrier, it took an extra three years. Going to college felt like a miracle. I had so many miracles in my life. I was 20 when I moved to the States. I didn't even know what kinds of art schools existed here. I began Googling school names and found millions. I started going to every single school website and did research, but I didn't know how to read English. I printed out each admissions page, found a dictionary and translated every single word that I didn't know. It took me six months to realize how many art schools existed in the States. I had no money and I had to figure out how to get into school. We were living in a sketchy area of Baltimore and my dad was worried for me. I was stuck in the apartment for five days a week and the only day I could leave the apartment was when my dad and I went grocery shopping. I stayed in my room and did research. I wasn't able to do anything anyway because my visa was being processed. Two years was a long time to wait. We didn't have money to buy art supplies so I collected boxes and painted a lot on cardboard. I still use this material in my work.
S: So there was no point for you to quit?
R: No. What is the point if you give up?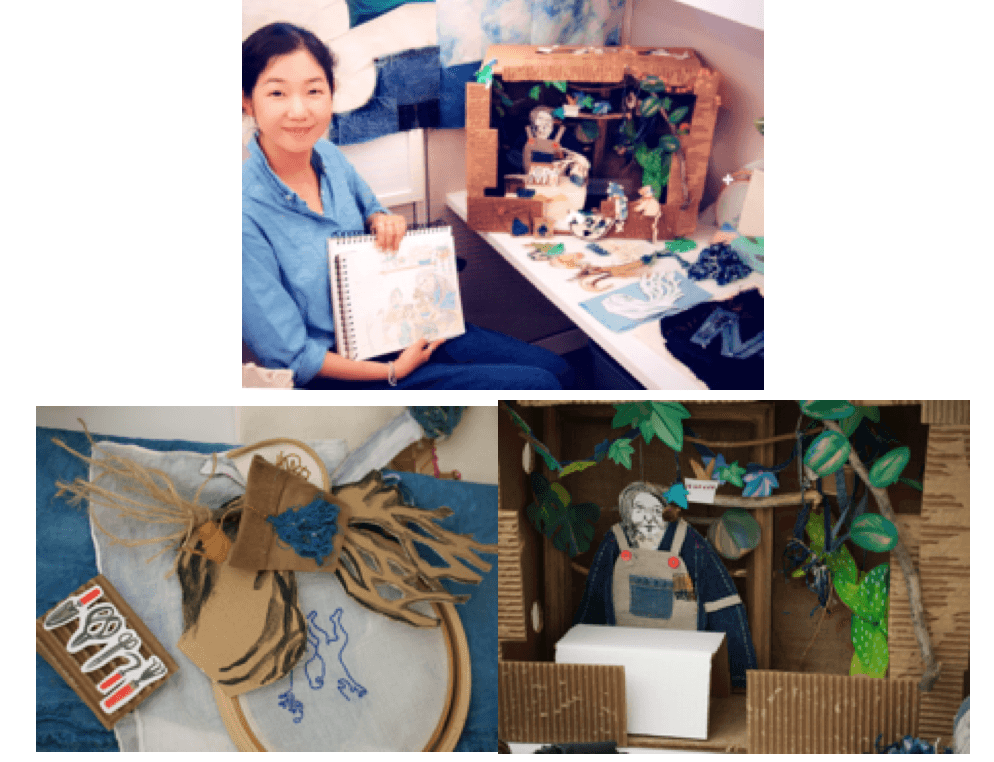 S: How did you get into the program at MICA?
R: I found the "National Portfolio Day" at MICA (Maryland Institute College of Art in Baltimore City), the college from where I graduated. It was only 10 minutes away from my father's place. I told him, "There is a portfolio day where I can show my work." I grabbed a bunch of my cardboard box paintings and went to the school. It was funny that they liked my work. I couldn't believe they waivered my portfolio and invited me to come to school. I was awarded a scholarship but my visa was not ready, so I had to hold the admission for 2.5 years. While I was waiting for my visa, I went to the public library and started learning English by myself. The children's section was great for me. I could read a lot of children's books and I got really into them. I read "Lemony Snicket: Series of Unfortunate Events". My father and I moved to Virginia where it was safer than Baltimore City. My schedule was waking up, making lunch for my dad, going to the public library, reading books and studying English. From age 20 to 23, I was living like a monk. I didn't drive and it was hard to commute in the suburb, so I took the bus that came every hour. I became friends with those who took the bus with me at the same time. It took an hour from my place to the library. That's where I met my best friend, Alex from Russia. After a year, I was finally able to take English classes at a community college where she was attending and we became really good friends. After three years of riding the bus I finally got a green card and I had to immediately contact the school. I was so appreciative of MICA because they re-opened my admission. I really wanted to go there. Every semester I sent a letter with a Christmas card made of cardboard boxes. I got the green card exactly on December 31st of 2007. We were so happy we cried and said, "We did it!" I consider my luckiest moment when I got accepted to MICA. Going to school was the only one thing that I really wanted. Because of the circumstances and poverty, I wanted to go to the next level. I felt sorry for my dad, but I had to leave.
S: Did you study art in Korea as well?
R: Yes, I finished my first year in college in Korea, but honestly the school where I went was not very good. I didn't have the motivation. Classes are very important in Korean society. I realized my life was not going to be okay. Back then, my mom was financially unstable because her business wasn't doing well. That was the moment I realized that to survive, I had to study hard and get a scholarship. I finished two years in school and when I graduated, I was Valedictorian of my class. I didn't have to pay tuition. I was teaching art part-time to kids and serving at a restaurant to sustain myself. I feel like I was trained to work hard because of my parents' financial situation. But I also think that if my parents were rich and supportive, I wouldn't be the person I am today. I wouldn't be a person that could appreciate.
S: When did you move to New York?
R: Right after MICA, I got a full-time job offer from a fashion company in Manhattan as a textile designer, which is how I got into the fashion world. In my mind, I was only thinking about making art. I didn't think about anything else. Working in an office was very different. I worked hard, but only stayed for 6 months because I knew that I wanted to go to grad school. I always wanted to become a teacher and help students and maybe work for a nonprofit organization. After quitting the job, I started working on my own projects. I wasn't able to paint while I was working for the fashion company because I was using Photoshop when I made banners. It took a while to bring my skills back so I kept practicing painting. I know myself and the best way to present my work is with honesty. If I make something fake to look cool, it almost never works out. Maybe that's why I wasn't happy working for the fashion industry because I couldn't separate myself from the product.
S: Did you work anywhere else?
R: To sustain myself, I got a part-time job at Starbucks as a barista because they provided health insurance. I realized that I needed to figure out how to sell my art. That's how I got into linocut prints. That's when I started my own website, "Rosaful Garden". I found a small gift shop around my apartment and started selling my prints there. I did the barista-artist life for about two and a half years. Christmas was a big deal for me. I grew up in a Catholic culture. My name Rosa is a Saint's name. I have my Korean name, Sung Ji, which is a Buddhist name. It means "holy meaning" and can be very religious and masculine at the same time. There are not many females named Sung Ji in Korea. "Sung Ji" is also another word for "holy place" in Korea. I officially changed my name to Rosa three years ago when I acquired a U.S. citizenship. My family on my mom's side are all Buddhists, and on my father's side are all Catholic, so I grew up in two very different worlds. As a kid, I had my own abstract, imaginative world where all the Saints, Gods and Monks were playing together. I always followed my grandmother to temple. She is a devoted Buddhist. We would go together, but then I would go to a kindergarten run by nuns, so it was very different but I accepted both. That was always my theme. Until now.
S: Who inspired you?
R: My mother and grandmother speak Japanese. They are very Japanese sometimes. My grandmother is 95, she has survived through World War II and the Korean war. She was also a strong feminist, which was very rare back then. When she grew up, Korean women had no chance of going to school, but she left her home to study. I guess this is a story that always inspired me. To do something, you should do something. She said there were only five Korean women in all schools back then. She was the chosen one, the brave one. She believed that women needed to be educated. She was actually the one who pushed me to go to my dad. She told me Korea is not the place for me, which surprised me because other Korean grandmothers are very traditional and would never say that. She still wears red lipstick and drinks cappuccino in the morning with a toast. She never goes outside without Lancome red lipstick. She is a true lady. She always said that the Korean War and the government ruined her life because she thinks that if there was no war, she wouldn't have met her husband. They met during the chaos of the war. She regrets it so much because she didn't like being married. Her husband ended up passing away when she was young, leaving her with five kids. She was an elementary school teacher, which was a prestigious position for a Korean woman. But the job didn't pay well so she opened a corner store and started selling stockings and underwear on the street. She supported all of her kids and she never remarried. My mother never remarried and neither did my dad. They're all stubborn people.
S: If you could go back to any moment in your life, where would you go and what would you tell yourself?
R: I want to go back to when I was a kid and tell myself that I don't have to hide anything or pretend to be something else. I was a very stubborn kid, but I still had a very low self-regard because of society. Being raised by a single mom back then was such an inferior thing in Korean society and I was putting myself down. I felt like I was always the black sheep. I noticed that people would treat me differently. Whenever I did something wrong they implied, "It's because you don't have a dad and you're not educated enough. You don't know how to behave yourself." I would tell myself that I should do what I need to do, and sometimes I don't have to listen to everyone. Don't think too much and just go your way instead of pleasing others. I was so stressed that I always had to present myself as one of the best. I didn't want to be judged because of my parents' situation. I tried to dress well so that nobody would be harsh on me. I had to defend myself saying things like, "Oh, my dad is in the States, he's working there." It was true, but I felt like an actress.
S: When I met you, your hands were blue. Why?
R: I randomly met an Indigo master in Brooklyn and I was so intrigued that I started interning at the studio. I worked there on the weekends and then the doctor's office during the week days. I had to wear gloves at the doctor's office.
S: What does your schedule look like now?
R: My schedule is actually heavier because I have a lot of part-time jobs and I do a lot of commission work. I'm more of a morning person so I wake up at 6:30, get coffee then eat some yogurt. I focus on computer work such as writing scripts and emails, and then in the afternoon and evening I mostly draw or make art.
S: Tell me more about "The Weeping Tree".
R: I wanted to explore different recycled materials through the project. My initial plan was to do more two-dimensional work with stitching and embroidery. Then I realized that I wanted to play with the materials more and maybe even with space, so the "Weeping Tree" original is actually hand-drawn, and then it became 3D. It was a very short, one or two-page comic. The images came first. I drew the line work of my characters and the trees.
It started from the hospital when my father was at the ICU after a stroke. My father had the stroke two years ago all of a sudden when I was helping MICA set up tables for the department. He was in Washington D.C. so I had to move there. I took a year off from school but I came back this year and finished. I stayed there for a month and had to find a way to support him so I got a job at the hospital as a medical billing specialist.
S: What did you enjoy reading in your childhood?
R: My mom read a lot of Korean folktales when I was growing up. They have beautiful textures and pictures. The images inspired me a lot because I was affected more by the visuals than the story. My mom had a good eye in choosing books.
S: Is that why you pay so much attention to detail in your current work?
R: Yes, I loved reading picture books, but I created my own story while looking at the image instead of just paying attention to the words. I followed the text as my mom read it to me, but I still created other stories through the images, so that was my way of looking at it.
S: When you create your work, do you want the reader to have the ability to add more?
R: Yes, I thought maybe recycled materials would help them imagine something else. Even textures tell stories. That's why I always enjoy making more mixed books, both 2D and 3D like in the "Weeping Tree". I wanted to show different textures and not just "cute" textures. My fabrics are all worn out and old, but even these unimportant details will help add value to the visuals.
S: What makes you proud?
R: Sometimes, I feel that I put myself in corners. I don't feel that proud because I pretend to be very ordinary with the things I have done. But I was really happy when I saw my father's health getting better. I felt like I saved a person's life. The stroke hit the nerve that made him lose the ability to speak for a few weeks. We needed to practice how to read, write and speak. A few weeks later that dramatically changed – he could almost speak normally again. But the first time he had the stroke, the language he spoke was not human – he spoke like an alien. His brain was telling him that he was speaking fine, but we couldn't understand. He had no idea what was going on. We kept practicing, regardless of whether he understood me or not. He didn't have a cognitive problem and understood what I was saying. He just didn't know that he was speaking weirdly, which made it harder. It was a miracle how quickly he was able to speak again. I felt really proud when my mom visited me a few weeks ago for my graduation. She saw my work and looked really happy. I hadn't seen her for five years because she was taking care of my 95-year-old grandmother who was very sick. My mom told me that she was proud of me and all the things I had gone through. I felt honored.
S: Asides from your parents, what gives you pride about yourself?
R: This year, I felt strong and confident. I had so many chances to meet other people and talk about life and things. It's through other people that I realize that I am actually a good human being. I am proud of myself because I can tell what I am doing with my life. It felt as if I had different identities before. I've always been sad about being financially unstable, but now it seems like even if you're working in a company you can still say you're financially unstable. At least I have something that I can be proud of. Although I am not famous yet, I have things to show and talk about that make me really proud.
S: What are your favorite books?
R: I loved the whole selection of "Lemony Snicket – A Series of Unfortunate Events". I read it over and over again. The words are carefully chosen and it's very different from other books. It's easy to read and you feel the story. I also like the Japanese writer, Haruki Murakami, especially for his writing. I also just love Milan Kundera.
S: What other art forms do you follow and do they inspire you to create your own work?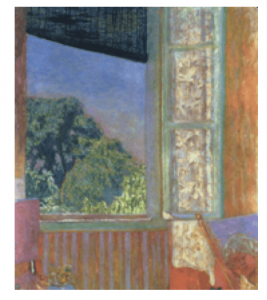 R: Always music! But, I am particularly a geek for the 1890s French paintings. Works by Pierre Bonnard are what I love the most. "The Phillips Collection" in Washington D.C., Dupont Circle, which is a private gallery has an amazing Pierre Bonnard original paintings collection. They also have Paul Klee. I love their colors so much. The day I got accepted to MICA, I went to see "The Phillips Collection". I was so happy that I just wanted to treat myself and paid the $12 fee. I sat in front of his big window painting and cried there for four hours, just looking at it. I love Frida Kahlo's work too. The National Museum of Women in the Arts has an original Frida Kahlo small-scale portrait. I was very much into Frida Kahlo. She is still my hero. I knew about her through Diego Rivera, but that was the first time I really looked into her work. I did a lot of self-portraits with Frida Kahlo. I somehow thought her life, her story and work is all about fruit, cactus all the botanical things, and it touched me so much. I have a whole cardboard box portfolio with Frida Kahlo. I am really inspired by different things, but for the recent project I was of course inspired by the indigo studio where I worked. All of the fabrics I am using are from that place. I like the whole process of the craftsmanship, dying, weaving and all the textile work made by artisans. It's more meaningful than just the image itself. When I was a kid, I loved looking at Native American folktales. In a way, that brought me over to the States because I wanted to meet the Native Americans. My naïve dream was to become an Indian. I have some books with a lot of illustrations on Native American symbols and that's where I always got the inspiration. I don't just see the things, I think of how they were made and what the story is behind the materials like the fabric.
S: Is there anything else you'd like to add?
R: 8 years ago when I was in New York City for a semester, I used to work as an intern in a residence program. At the time I was working in a gallery owned by a very, very old painter. He was 93. He owned the place and also worked there. He is a first generation Korean immigrant who owns an entire building on LaFayette street, so he's a really wealthy, successful painter. One day he asked me, "Rosa, do you still want to be an artist? You are in your junior year and you're about to graduate." I said, "Yes, I do". He said, "There are easier ways to life. You don't have to make art – you can just get married, or do something else." I said I wanted to be an artist. He said, "Then I have something to tell you. We don't know if you're going to be famous before you die, or tomorrow, or a few years later, or never, but just keep doing it. That's the only way." What he said has stuck with me. If you look at female artists, especially Asian female artists who are in schools, there are so many women who end up just not making art. Most of the students in our schools are females, but when you look at the industry, they're not there. I felt scared – what makes them stop? That motivated me to keep going.
Interview Credits
Recorded by: Sibylla Benatova (A Book A Day Program Manager)
Edited by: Soyoung (So) Jung (A Book A Day Graduate Assistant)