PennSmiles Mobile Clinic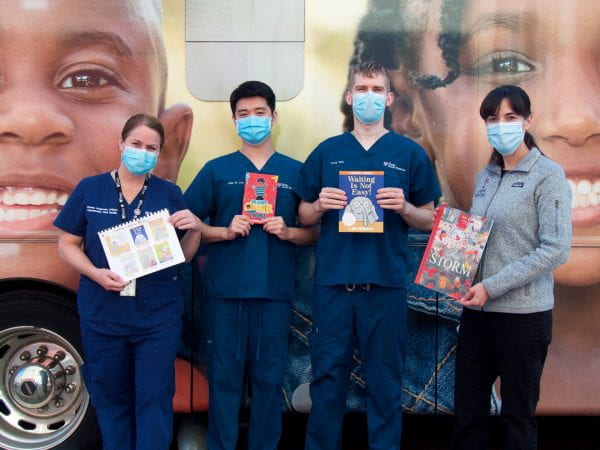 A Book A Day is proud to announce an exciting new partnership with PennSmiles Mobile Clinic, an oral health outreach program operated by the University of Pennsylvania School of Dental Medicine! Since 2003, PennSmiles Mobile Clinic has provided dental care to children in schools of West and Southwest Philadelphia aboard the PennSmiles Mobile Clinic.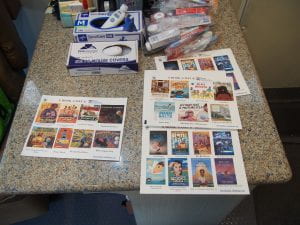 On September 24, A Book A Day made the first book delivery to the PennSmiles Mobile Clinic bus, parked at Henry Charles Lea Elementary School, along with posters listing all the titles.
Our team selected thirty-two titles, ranging from K-8, and made booklets for the kids to safely select their book without browsing the boxes.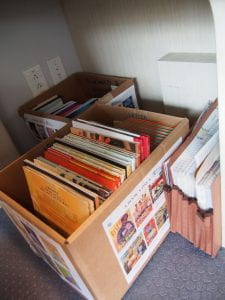 We established a routine book delivery to the PennSmiles Mobile Clinic bus so that many students coming to the Henry Charles Lea and Locke's Public Shcool locations can take home a brand-new hardcover book. Patients can choose from a vast selection of illustrated stories to add to their home libraries and share with their siblings and caregivers.
A Book A Day is thankful for this new partnership that helps us find creative ways to continue serving students and families of West Philadelphia by providing access to books to ensure children receive equal opportunities to read and learn.
A quote from two siblings: "We are so excited to have two new books to read!"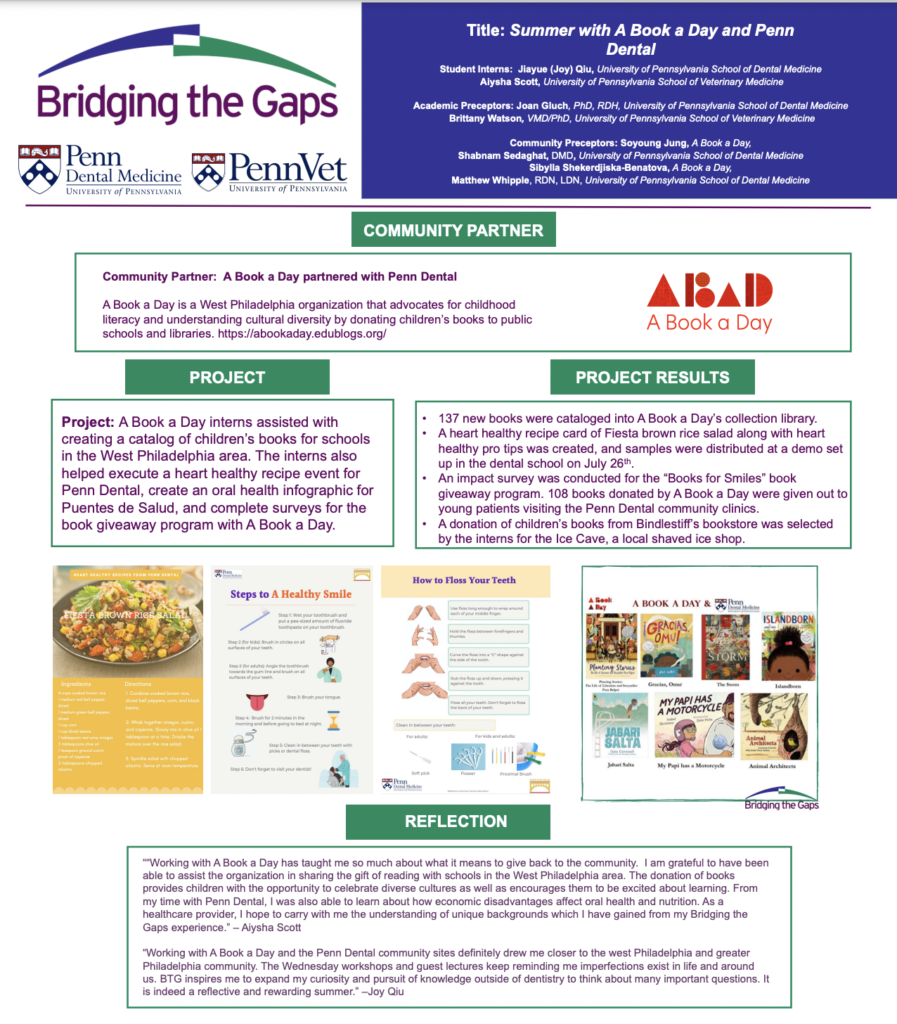 In the summer of 2021, we were fortunate to work with Bridging the Gaps Initiative. You can learn more about our partnership here.
Joy Qiu: "Working with A Book a Day and the Penn Dental community sites definitely drew me closer to the West Philadelphia and greater Philadelphia community. The Wednesday workshops and guest lectures keep reminding me imperfections exist in life and around us. BTG inspires me to expand my curiosity and pursuit of knowledge outside of dentistry to think about many important questions. It is indeed a reflective and rewarding summer."
Aiysha Scott: "Working with A Book a Day has taught me so much about what it means to give back to the community. I am grateful to have been able to assist the organization in sharing the gift of reading with schools in the West Philadelphia area. The donation of books provides children with the opportunity to celebrate diverse cultures as well as encourages them to be excited about learning. From my time with Penn Dental, I was also able to learn about how economic disadvantages affect oral health and nutrition. As a healthcare provider, I hope to carry with me the understanding of unique backgrounds which I have gained from my Bridging the Gaps experience."
Thank you to the frontline workers, who are the real heroes of our time.