Mitali Perkins
A Book a Day Report: Mitali Perkins
Virtual Visit with Henry Charles Lea Elementary and Penn Alexander Schools in West Philadelphia
May 25, 2022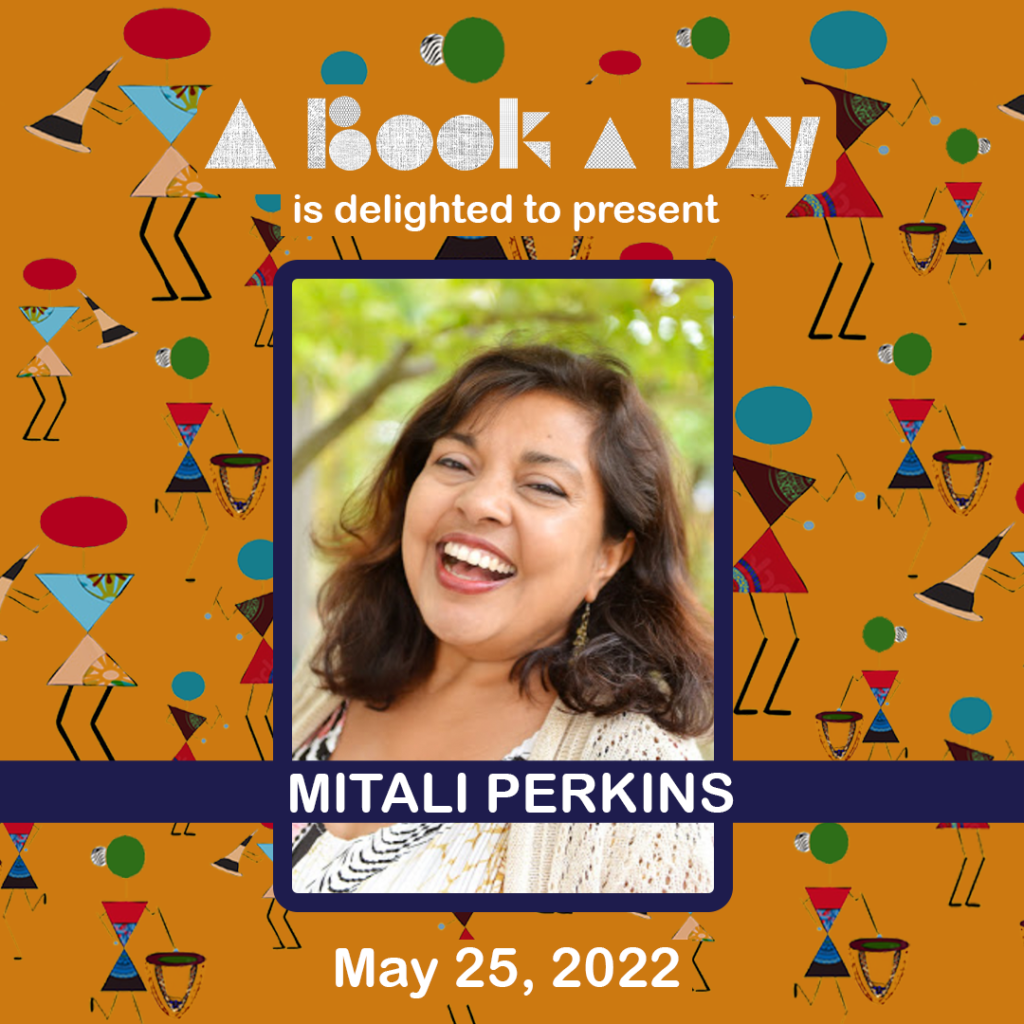 Where am I from? Can the answer be stories and words, some of theirs, some of mine?

Mitali Perkins
On Wednesday, May 25th, critically acclaimed children's book author Mitali Perkins met with the students of Penn Alexander and Lea Elementary schools over Zoom. Ms. Perkins, who immigrated to the United States from Kolkata, India as a young child, has written 14 books ranging from picture books to young adult novels. Many of her books center around characters who live between cultures and explore what it means to belong, or be "from" a place. Ms. Perkins has been nominated for a National Book Award, honored as a "Most Engaging Author" by independent booksellers, selected as a "Literary Light for Children" by the Associates of the Boston Public Library, and was invited to serve as a judge for the prestigious National Book Award and the Kirkus Prize.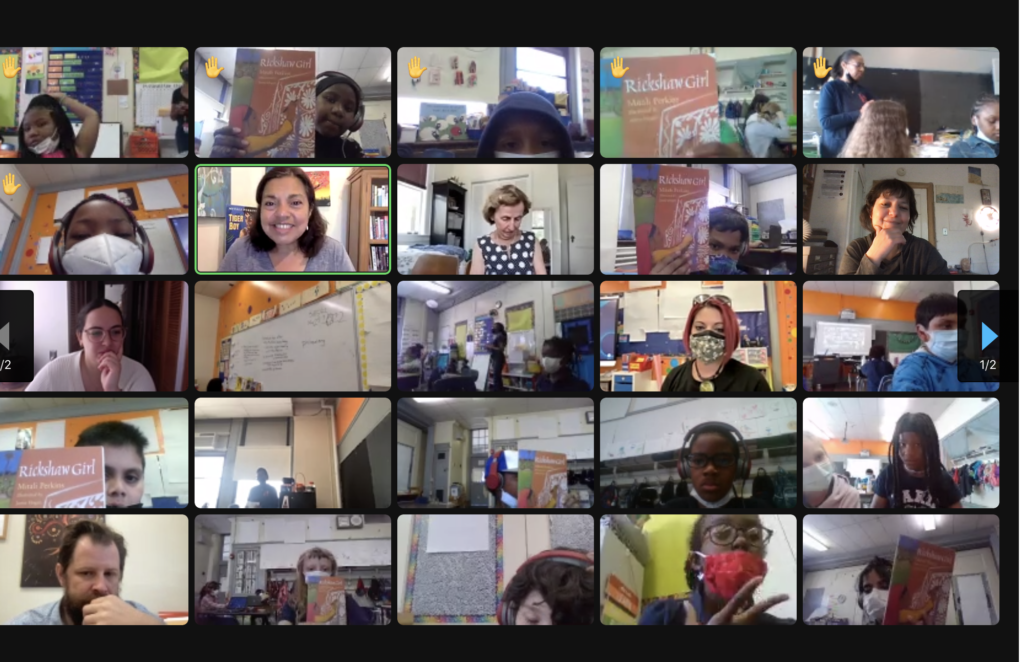 Ms. Perkins' first visit was with third and fifth graders from Penn Alexander. Ms. Perkins, who has lived in Bangladesh, India, England, Thailand, Mexico, Cameroon, and Ghana, spoke with students about the many ways in which cultures can be different: food, manners, clothing, language, and gender roles, to name some. She shared personal stories about her experience as an immigrant, unfamiliar with Western customs, trying to fit in in a new school in the US without giving up her cultural identity.
Books have always been my home.

Mitali Perkins
Ms. Perkins' presentation and exploration of the struggle to fit neatly into one cultural category or another led to a lively Q&A session and discussion with the fifth grade students. The students had each read Ms. Perkins' novel Rickshaw Girl about a girl in Bangladesh who disguises herself as a boy in order to provide for her family (A Book a Day donated copies to Lea and Penn Alexander's libraries, and Lea donated copies to each student and their teachers). Drawing from their reading and Ms. Perkins' presentation, the students were very interested in the ways in which traditional gender roles can vary in different cultures. After some discussion, they picked up on a powerful parallel between the ways in which LGBTQ+ and gender non-conforming people can find themselves on the margins in societies that don't accept them, similarly to immigrants who are caught in between cultures and may feel unable to be their authentic selves.

The second visit, on the same afternoon, was with third graders from Lea, who had also read Rickshaw Girl in preparation for Ms. Perkins' visit (each student had received a copy, donated by Lea).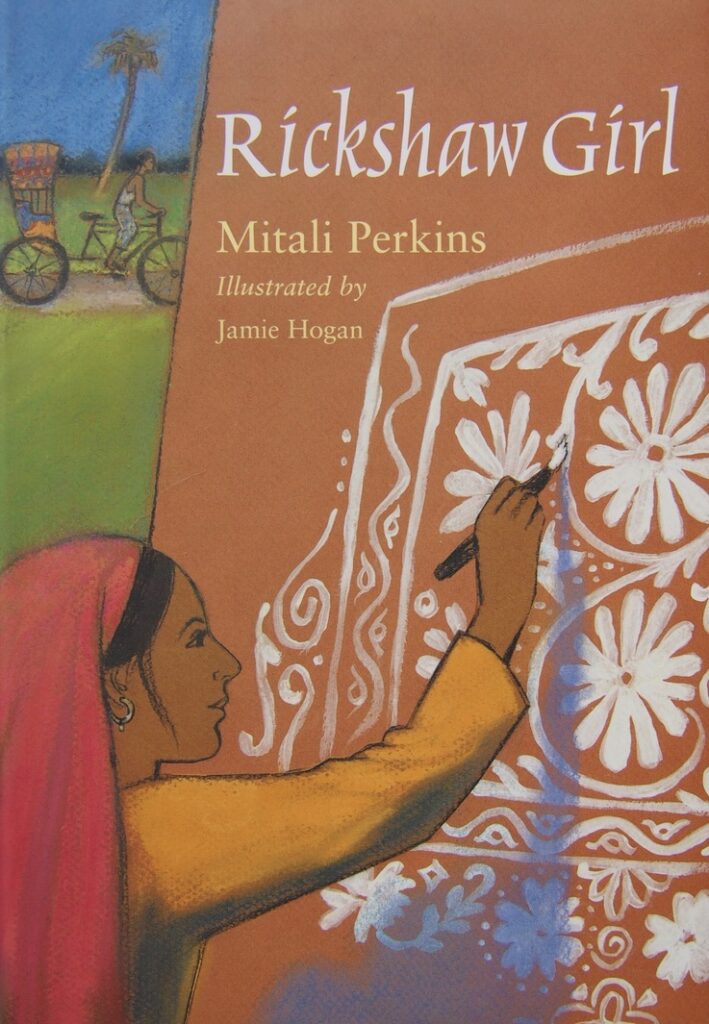 My favorite book that you made is Rickshaw Girl.

I made a drawing of a rickshaw.

I love your work.

Lea Elementary students

With the Lea students, Ms. Perkins read her story Home is in Between. Home is in Between is a picture book vibrantly illustrated by Kolkata-born, Australia-based artist Lavanya Naidu. The story is about Shanti, a little girl who moves from her family's village in India to an apartment in America. In America, Shanti finds that she is caught between worlds: while at home, she and her parents maintain the traditions and customs of their village, but Shanti also must learn to navigate the culture of her new town, with its trick-or-treating, ballet class, and English books. Ms. Perkins' reading completely engaged the students, who shared their perspectives on Shanti and her parents' experiences and emotions.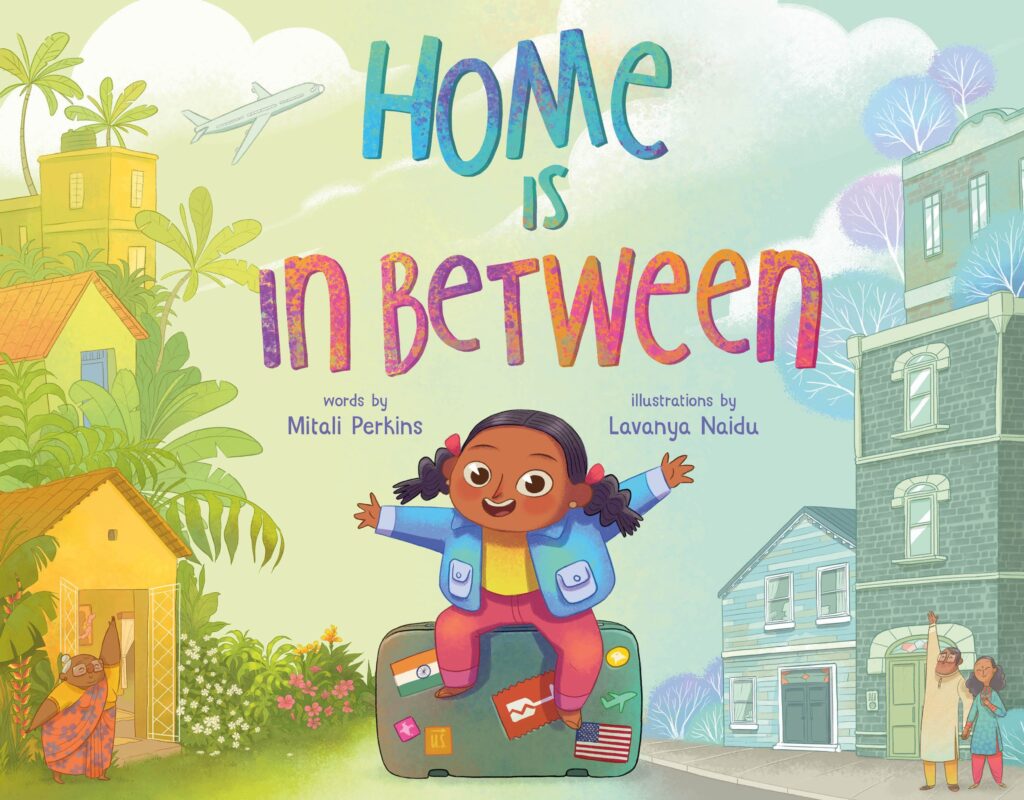 Shanti's excited, her parents are sad and worried.

Her dad looks like he's ready to run.

She's feeling kind of scared.

Angry…in her head and her heart.

She's feeling happy.

Lea Elementary students

Following Shanti's back and forth between cultures led to a conversation about the pressure of constant code-switching, which can be tiring for immigrants as well as many others. As part of this conversation, some of the students shared that they had moved around a lot, or that they had grandparents who lived far away – they related to the aspects of Shanti's experience that were similar to their own, and also learned about an experience outside of their own world.
I love this book.

This book is great.

Very inspiring.

This book is the best.

Where can I find this book?

Lea Elementary students
The students then had time to ask Ms. Perkins questions. They were particularly interested in the creative process and wanted to know about Ms. Perkins' experience as a reader and a writer: what her favorite books to read were, what her favorite books that she had written were, what had inspired her, and when in her life she had written her books. Ms. Perkins shared with the students that her path to becoming an author had not been easy, and that hope and persistence in the face of adversity were large parts of the reason for her success today.
The student who asked where he could find a copy of Home is in Between was happy to learn that A Book a Day donated copies of Home is in Between and other books by Ms. Perkins to the Lea Library, where he and other students can check it out to read at home. A Book a Day donated copies of these books to the Penn Alexander Library for students to enjoy, as well.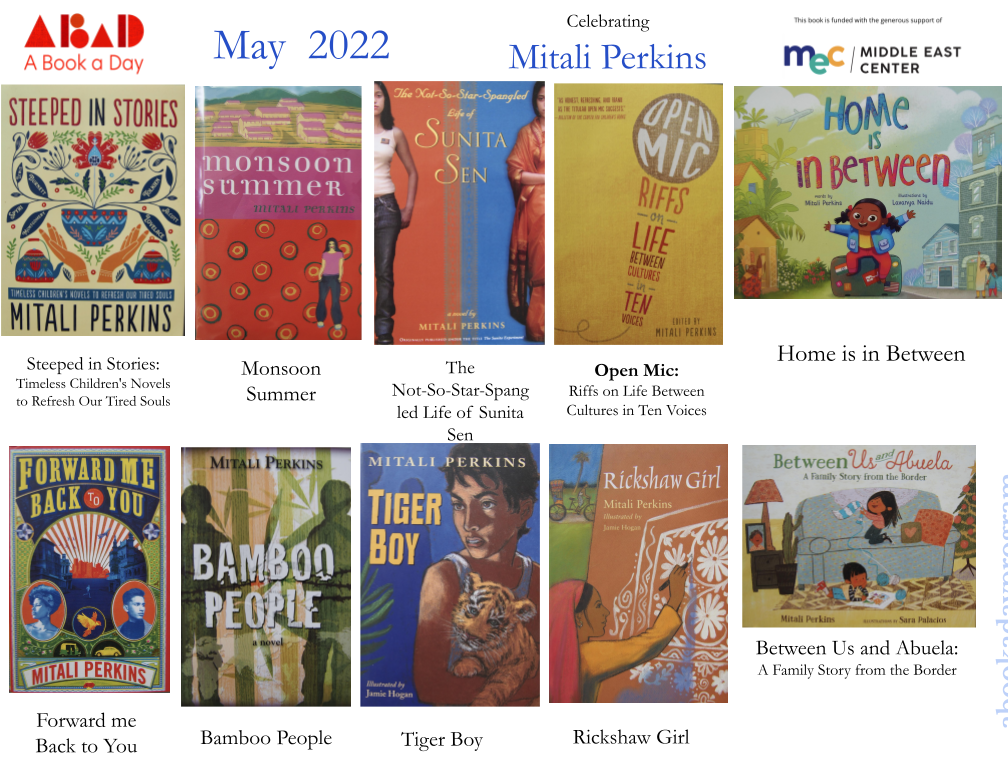 Building on the success of this event, A Book a Day is looking forward to collaborating again with Ms. Perkins on additional projects in the near future, including on the creation of a mural at Lea Elementary inspired in part by Ms. Perkins' work. A Book a Day staff member Tanushree Chowdhary will be designing the mural for this artwork, which will be done in collaboration with Lea students.
This event was made possible with the kind support of the Penn Middle East Center, the Center for Programs in Contemporary Writing at Penn, and the Lea School Community.