Find Philly's Superheroes!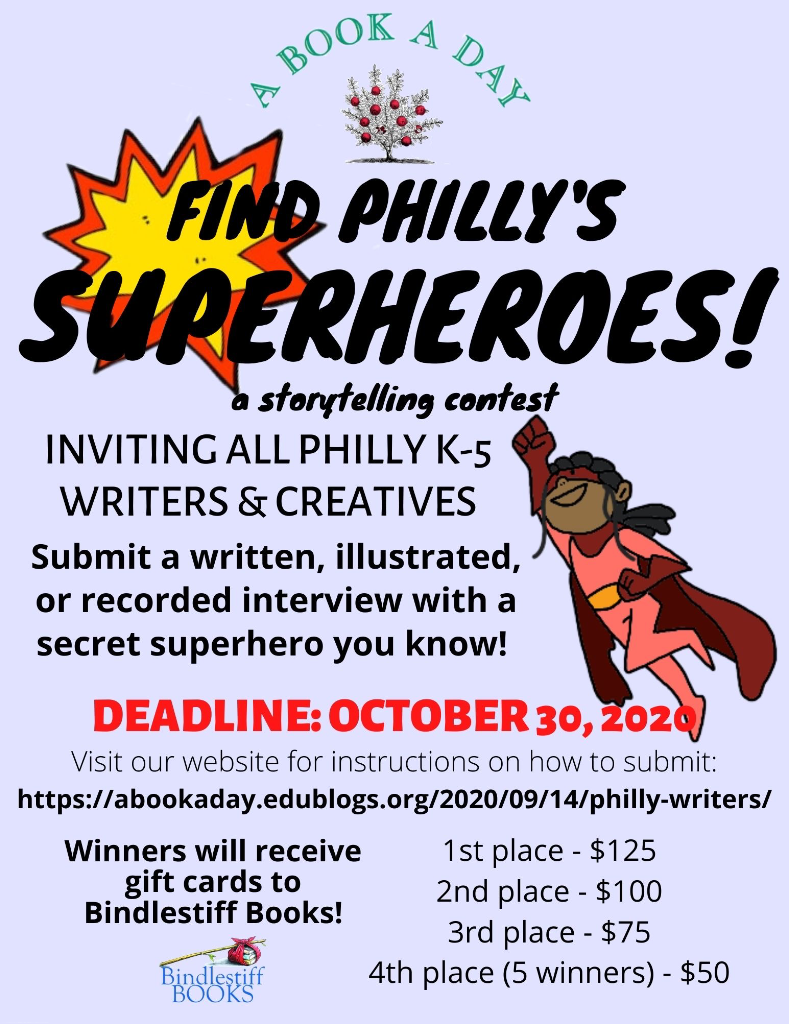 In partnership with Bindlestiff Books, the A Book A Day program is excited to announce our second writing contest, open to all K-5 Philadelphia students!
Although Fall 2020 started off differently than past years, one thing hasn't changed, and that's the heroes in our homes, community, and neighborhood. We want to hear about the powers that your heroes possess. Ask them what they're best at and tell us what you learned. You can submit a written and illustrated entry. We also welcome oral storytelling (your audio recording should be up to 3-minutes long).Please submit your work by October 30, 2020. Email us at abookadayprogram@gmail.com
Wordless books will be accepted. There are no limitations on page numbers. Stories can be written in different languages (please prove a translation for our committee.)
We accept stories written in different languages, as long as translations can be provided.
Subject line should read: Find Philly's Superheroes! _[name of student]
In the email, please include: Student's name, student's grade (K-5), title of the story & best way to contact you.
(*All personal information will be protected. To ensure fairness, judges will not have access to personal information except for the grade of the applicant.)
Attach images of the storybook. Upload each page as clearly as possible.
Recorded stories should be up to 3 minutes long. Please send MP3 files.
Prizes:
1st place – gift card to Bindlestiff Books for $125
2nd place – gift card to Bindlestiff Books for $100
3rd place – gift card to Bindlestiff Books for $75
4th place (5 winners)- gift card to Bindlestiff Books for $50