Zetta Elliott
A Book A Day Report: Zetta Elliott
Visit to Henry Charles Lea and Penn Alexander in West Philadelphia
October 15, 2019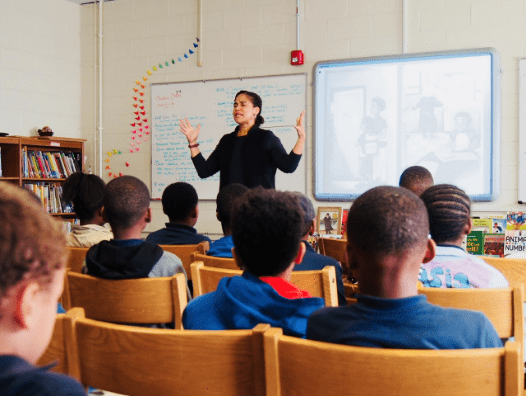 "Everyone has a story to tell."

Zetta Elliott
On October 15th, Zetta Elliott made a special visit to Penn Alexander (PAS) and Henry Charles Lea schools as part of our guest program. Zetta talked about her inspirational journey as a writer. In her blog, Zetta writes:
"I began reading at an early age; I began writing stories shortly thereafter, and my grade school teachers attested to my "delightful and active imagination" in the annual report cards which my mother carefully preserved."

Zetta Elliott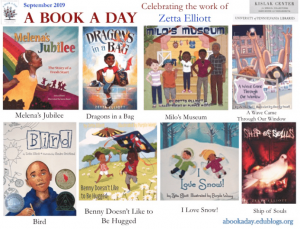 In preparation for this visit, the A Book A Day program donated copies of Zetta's books in September to both Penn Alexander and Henry Charles Lea Schools. The early delivery allowed teachers and students to read and become familiar with the books before Zetta's visit. All book orders are placed with our partnering local bookstore, Bindlestiff Books with the help of the Kislak Center.
In the morning, Zetta arrived at PAS, where she met with three 5th grade classes. She gave away fresh-off-the-press copies of "The Dragon Thief" (sequel to "Dragons in a Bag") to the school. She then visited the library and donated an autographed copy. In the afternoon, Zetta walked over to Henry Charles Lea school where she met with two third grade classes. University of Pennsylvania students, Lea library staff, and WePAC volunteers attended the event. The young students were enthusiastically waiting for Zetta's presentation to begin. The topic was focused on the unequal representations of characters from diverse backgrounds in children's literature. These types of conversations are important to bring up in school settings to get students to think about and understand inequality at an early age. Zetta did an excellent job creating a safe and open environment for this type of dialogue to happen among young students.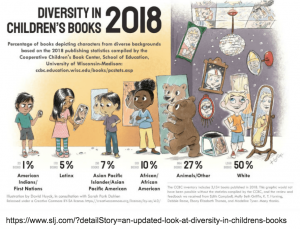 Zetta used the story-telling technique called "call and response," where she asked, "Is this fair?" and the students replied, "No!" Her message to the young students throughout this unique presentation was to encourage them to "fix the gap" by writing because everyone's story matters. The discussion resulted in positive reactions as students quickly agreed that something should be done about this unfairness.
"I couldn't get into these schools when I lived in the neighborhood, but the A Book A Day Program finally opened the door for me. I think what I do matters—the kids at both schools were captivated by my stories—but what am I doing to challenge structural inequality?"

Zetta Elliott
Zetta's words inspired the young readers and encouraged them to write because "everyone has a story to tell." She connected fabulously with the students and got them engaged in conversations about story-making. After the talk at the Henry Charles Lea School, each student left the library holding a book to take home and read with their families.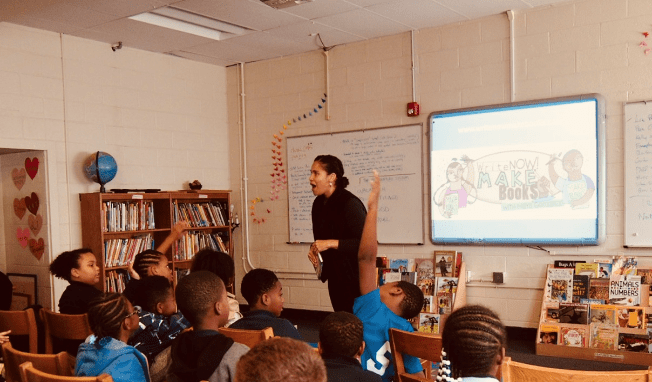 You can visit Zetta Elliott's website at https://www.zettaelliott.com/

The A Book a Day Program would like to thank the Pine Tree Foundation of NY for their generous support and for making this visit possible.
Report by: Soyoung Jung, A Book A Day Assistant Manager
Sibylla Benatova, A Book A Day Manager
© Photo Credit: Sibylla Benatova