Baklava Benefit Sale
Event Description:
On October 27th, 2018, we held an event called Booklava at Bindlestiff Books located in West Philadelphia – a baklava fundraiser for the A Book A Day Program. The purpose of the event was not only to raise money, but to also introduce the program to community members in our neighborhood. To prepare for the event, we put flyers up that advertised the event throughout the West Philadelphia area, as well as in the two schools that we work with, Henry Charles Lea and the Penn Alexander. Students from both schools helped with the sales and promotion of our program.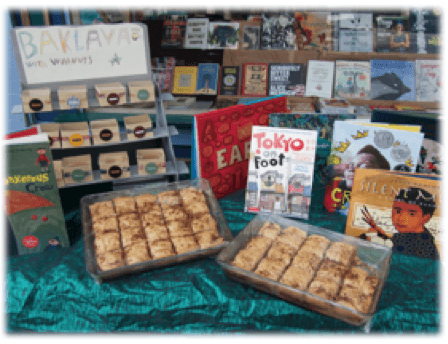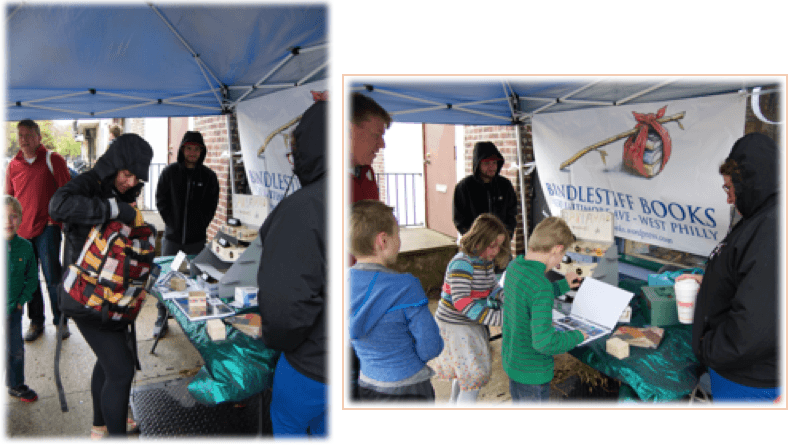 Despite the stormy weather, the sale was a huge success and we sold out in under four hours!
As our program is growing each year, it is beneficial to gain interest and support from the community by providing them knowledge of our existence. By spreading awareness, we are also promoting the importance of investment in new books for our public schools. Our monthly contribution of books to the youth is important in that children are receiving precious resources that society can offer. This event was a chance for friends, neighbors, parents, and teachers to give to the students, while also coming together to show appreciation and support for the program.
A Book A Day is in partnership with Bindlestiff Books, an independent bookstore in West Philadelphia. All of our books are ordered from Bindlestiff and discounts are given. To promote our partnership this event took place at Bindlestiff Books. Our sale brought many customers, both new and longtime, into Bindlestiff. Everybody was browsing the shelves and enjoying each other's company. Parents and children were discussing their favorite books and learning about new books to add to their reading list. Even though the weather was cold and dreary, the community still came together in a safe and warm place to foster friendship and support. Media coverage by Bindlestiff Books and West Philly Local can be found online.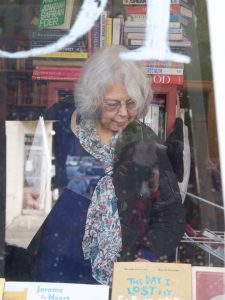 Outcome:
Over 300 pieces of baklava sold!

Goals:
The money raised will go towards A Book A Day on behalf of the West Philadelphia Community to continue to provide support for the students of Henry Charles Lea and Penn Alexander. It will give us the opportunity to select more creative and exceptional works in children's literature to share with our young readers. We will be able to expand our diverse selection that will promote awareness of our society and cultures to the young generation.
Feedback:
Question: What was the best part about the Booklava sale?
"The best part was when we advertised and people said they would come over to buy baklava and thanked us. My friends and I felt good that we helped raise money."

Charlie,10
"I loved dancing on the street. We vistsed the pet store next door, invited people to come over and played with the cats."

Eddie, 6
Report by:
Soyoung (So) Jung A Book A Day
Graduate Assistant